Material Handling Trays &
Material Handling Containers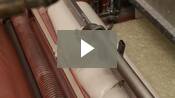 Molded Fiber Glass Tray Company's Toteline™ is comprised of over 300 different material handling trays, containers and wash boxes for material handling and processing solutions in an array of industries, including chemical, rubber, metalworking, machinery, electronics, transportation and utilities.
MFG Tray material handling trays and containers are dimensionally stable under heavy loads and readily integrate with machine and robotic applications. Unlike metal they will not bend, dent or corrode, and they are impervious to cutting oils, grease, radiation, and mild acids and alkaline solutions. They may be used continuously in temperatures ranging from -60° to 250° F (-51° to 121° C), and intermittently in temperatures of 300° F and higher.
Nest and Stack Containers: Nest and stack containers are ideal for heavy-duty storage, work-in-process or distribution applications. Read more »
Stacking Containers: MFG Tray offers the widest variety of composite stacking containers in the industry to serve an array of material handling needs. Read more »
Nesting Containers: Versatile nesting design enables these trays to serve as drawers, trays, pans or stock boxes for more efficient material handling in a variety of applications and compact storage when not in use. Read more »
Wash Boxes: Strong, stackable wash boxes feature integral drain holes and slots to simplify washing, draining and storage of small parts. Read more »
Conveyor and Assembly Trays: The low- profile design of these containers readily integrates with conveyors and rack storage systems in various industrial and processing applications. Read more »
Ventilation Trays: These trays are designed to optimize air flow and reduce drying and cooling times while ensuring solid stacking without sag or bending. Read more »
Hoppers: Bin and hopper designs facilitate the storage of small parts, components and prepackaged goods. Read more »
Customized Trays and Fabrication Options: Slots and holes, handles, divider sets, and stenciling or silk-screening are among the customization options available for MFG Tray Toteline containers. Read more »
New MFG Videos Show Why "The Material Matters": If seeing is believing, three new MFG Tray product videos clearly demonstrate why we say "the material matters in material handling." View videos »